Etherlive
Formed in 2007, Etherlive is a specialist event IT company, designing, implementing and supporting both temporary and permanent IT solutions for the events industry throughout Europe. Offering customers an end-to-end service, Etherlive supports event organisers and venue managers as they deal with the challenges of connectivity in addition to security, communications and monitoring across large and complex sites.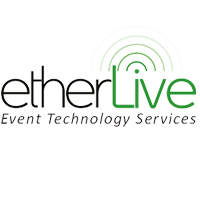 The Challenge
Dealing with events ranging from national exhibitions, large music festivals, product launches by major brands like Sky and Amazon, and globally significant sporting occasions – Etherlive's clients routinely demand ultra-reliable high-speed connectivity for short periods of time, often at hard-to-reach sites.
"As the behind-the-scenes technology partner for many important events, it's our responsibility to identify the best solution for each unique requirement," said Tom McInerney, Director and Co-Founder of Etherlive. "A big component of our planning is connectivity as this drives the provision of everything from outside broadcast media feeds, POS payment terminals and Wi-Fi hotspot provision, through to enabling rich media applications and CCTV. We have to get the connectivity right, both in terms of high-bandwidth capacity and the quality of SLA, to ensure we and the client are fully confident the event will proceed successfully and safely."
Simply ordering standard connectivity services is often impossible in the high-pressure context of organising a major event, explains Tom: "In some instances a fibre or copper-based connection might be technically feasible, but we rarely have the sufficient lead-up time available. Increasingly, wireless connectivity is the most attractive option, but we still need partners that can provide an extremely high-quality, resilient product underwritten by a meaningful SLA and delivered by professional and conscientious engineers."
The Approach
Etherlive's mission to locate the best connectivity solutions for individual client needs inevitably drew them to Luminet's portfolio of Luminet Wireless Pro (previously known as Fibre-Air) and Fibre products.
Luminet Wireless Pro is based on a standard SLA of 99.95% and leverages Luminet's London-wide Network in the Sky to deliver 10Mbps to 5Gbps symmetrical clear channel services. The primary advantage with Luminet Wireless Pro is its installation timeline of less than 10 working days, owing to the ease as which it bypasses the wayleave permissions associated with fibre connectivity. The other major benefit is its resilience.
"Luminet Wireless Pro struck us a great standalone product that can also be combined with Luminet's Fibre services to deliver truly diverse, always-on last mile connectivity, potentially giving us multi-layer resilience supported by automatic failover and a 100% uptime SLA," said Tom.
As a Luminet partner, Etherlive was also introduced to the benefits of the 24/7 Luminet portal which provides unprecedented levels of visibility and control over the ordering process, technical support and live connection metrics such as application usage and SLA performance. "As a 24/7 operation, Luminet's portal gives us access to vital information and puts us firmly in control of our ordering journey. Having event budgets in one place is a big help, as is the ability to add value to clients' understanding of bandwidth need by delving deep into traffic profiling. We always have many projects on the go at once, so being able to track multiple, simultaneous site surveys all from one place is a great feature too."
The Results
Luminet's Network in the Sky has featured in numerous major UK events supported by Etherlive, typically providing speeds of between 200–300Mbps for a range of mission-critical applications. "The value starts at the install with Luminet engineers always arriving on-site at precisely when we expect them and coming up with fast solutions to the unique environmental challenges our venues present," said Tom. "By doing that, Luminet reduces risk and alleviates some of the pressure that confronts all event management processes. We trust them and have always been more than satisfied with the connectivity solutions provided."
While most events allow several weeks or months of planning before connectivity is required, Etherlive occasionally has to satisfy requirements for a new venue within much tighter timescales. "From order to survey and install, Luminet has turned connections around in just three days. That is impressive, but the added value is knowing that the service levels are so high, resilience is built-in and we have responsive 24/7 technical support to call upon if we ever need it."
Luminet products have also enabled Etherlive to ensure high standards of SLA to its clients, particularly in respect of key applications that underpin the security, environmental protocols and commercial viability of events. "Many of our public events are very high-profile and require emergency access to live CCTV feeds for Met Police Gold Command on request. Connectivity also underpins the real-time measurement of sound pollution levels, which are a condition of license, as well as facilitating all the rich media and ecommerce applications demanded by exhibitors and hosts, and reliable high-speed internet access for guests and participants."
Key Benefits
Delivered on 'impossible' requirements for high-speed connectivity at challenging event locations with short lead times
Assured the delivery of mission-critical applications underpinning the security and commercial viability of some of the UK's top events
Supported 24/7 event operations through an automated service portal for rapid ordering and granular application-level insights